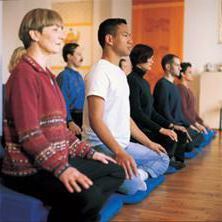 Meditation in Everyday Life
with Damian Ubriaco
Meditation in Everyday Life is a five-week class designed to help new meditators (including those who have never meditated before) develop a regular practice and bring the benefits of mindfulness to their daily lives. We will put special attention on practical suggestions for establishing a sitting meditation practice in the midst of our speedy society and lives. By forming a habit of meditation, we can learn to relax and simply be with whatever is going on in our lives.
Each evening class will include meditation instruction, a talk by a teacher and discussion of the challenges that we face in our practice. This series of classes emphasizes the ways in which meditation can impact our daily lives and expand to impact our whole society.
This is the first course in the Way of Shambhala series. It is open to the public and does not have any prerequisites. At the same time, it is a perfect companion course to Introductory to Meditation Weekend Workshop.
Our Generosity Policy
In order to make our programs accessible to everyone, we have a "pay what you can afford" policy. If the program price is an obstacle for you, please decide what works for you and offer whatever you can.
For those who can offer more, we invite you to pay more to help cover the costs for others who are not able to pay the full price.