Welcome to the Shambhala Center of Albany
Although the Shambhala Center of Albany building is closed for now due to the COVID-19 pandemic, we are actively working with program leaders and community group leaders to transition events to an online format.
Now more than ever we understand the importance of community. We welcome all who are interested in connecting during this uncertain time. We continue to welcome your input and ideas for how to stay connected with our practice and each other during this time.
Please consider making a
donation
if you are in a position of plenty.
SMCA Courses
Learn to Meditate: Our introductory class on how to meditate is on the first Wednesday of every month (Online). Please register before joining – Link to live session. Click to Register.

Stressing and Letting Go – a Buddhist Learning Laboratory (online) with Mr. Ryu Yoshida. Tuesdays from 7:00 -9:00 pm – Dec 1- Dec 28. This program is set up as a learning "laboratory" in which we get together (on Zoom) to deeply explore the three root afflictions and the painful emotions they spawn.  To feel into the ways that bodily sensations anchor suffering in our minds.  In this process, we will be guided by core Buddhist principles that help us to release the stuckness.  And, in doing so, find relief and Goodness right within the stress we normally try to avoid. Click to Register.

Be Present, Now – Meditation in Everyday Life with Elissa Kane & Damian Ubriaco. Thursdays from 6:30-830 pm from January 7 to February 4. While meditation has many proven benefits, establishing a consistent personal practice can be challenging. Our renowned five-week training course is designed to help new meditators learn the basics of Mindfulness Meditation practice and bring the benefits to their daily lives. Click to Register.

Sunday Sitting (online) from 9am-12pm on December 27 The session will also include walking meditation and often features a brief reading from the teachings of the likes of Chogyam Trungpa Rinpoche or Pema Chodron. You do not need to be present for the entire session and are welcome to come for as much of the session as your schedule allows. The center provides a variety of cushions and meditation benches as well as chairs. Click to Facebook Live Link

SMCA & Friends Local Meditation Offerings
Offerings from our Friends

Sustaining Community*
While our Center is closed, it is important that we don't isolate ourselves. We are all in this together. Remember to stay in touch with each other in whatever way feels safe; reach out to offer support or to ask for help. Invite a friend to "join" you for an online practice or class.
We welcome your input and ideas for how to stay connected with our practice and each other during this time. Please contact the Council Team with any ideas, feelings, concerns at [email protected]
We look forward to gathering together in person when that occasion comes. Thank you for your patience and understanding as we navigate the uncertain time.
Please be safe and well.
Where to Begin?
We offer a wealth of classes and retreats. Here are a few to start with:
Learn to Meditate: 1st Wednesday of the month from 7:00 – 8:30 pm
Public Sitting Meditation: Wednesdays 5:30 – 7:00 pm; Last Sunday of the Month 9:00 am – 12:00 am.
Join us at open meditation – see schedule below.
Mondays:
5:30– 7:00 p.m.
Wednesdays:
9:00 – 10:00 a.m.
5:30 – 7:00 p.m.
Last Sunday of Month:
9:00 a.m. – 12:00 p.m.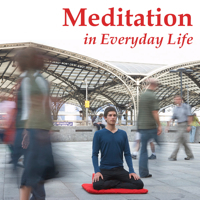 with Damian Ubriaco & Elissa Kane
January 21st—February 18th
The meditator's instruction manual. Learn how to cultivate strength, stability, and clarity of mind in this 5-week course.
Continue »