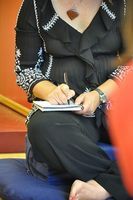 Sit, Walk, Write: Half-Day Contemplative Writing Retreat
with Ellen Rook
We'll reschedule later this year.
Inspired by Natalie Goldman's recent book The True Secret of Writing: Connecting Life with Language, join us for a morning meditation, movement and writing retreat. Everyone is welcome, new and experienced meditators, aspiring writers, established writers, and writers of any genre. Meditation instruction will be available at 9 am for anyone new to meditation.
We'll spend the morning in silence as we practice sitting meditation, exploring our genuine, awake hearts, mindful movement through walking meditation (and perhaps a little gentle stretching or yoga) and writing sessions. Optional writing prompts will be offered. At the close of the morning retreat, we will end our silence with a discussion. There will be an opportunity to share our morning words as well.
Our Generosity Policy
In order to make our programs accessible to everyone, we have a "pay what you can afford" policy. If the sustaining price is an obstacle for you, please decide what works for you and offer whatever you can.
For those who can offer more, we invite you to offer the enriching price to help cover the costs for others who are not able to pay the sustaining price.