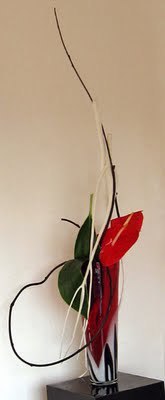 December Ikebana (Morning)
with Ellen White Rook
In person. Monthly workshop in the art and practice of arranging flowers in the Sogetsu Ikebana tradition. Open to all, beginners and continuing students. The program will include
Beginners will learn how to create a basic upright arrangement in a moribana (shallow container). Flowers and branches are provided for new students.
Continuing students will create one or two arrangements following classic Sogetsu patterns, exploring basic and slanting styles in both moribana and nageire(upright) containers.
Demonstration of a seasonal freestyle (without rules!) arrangement. Participants will work in small groups to create a freestyle arrangement.
Returning students will bring their own flowers and branches. Confirmed participants will receive a list of materials to bring (bucket, clippers, specifics on container needed, etc.). Class size is limited--please register soon.
Inspired to learn ikebana after falling in love with the flower arrangements at meditation centers, Ellen White Rook has been studying Sogetsu School ikebana for over 20 years and has been teaching since 2012. She currently holds the Sanyo instructor certificate. Ellen leads workshops and demonstrates ikebana at garden clubs, libraries, arts centers and meditation centers. She was the Chair of the New York State Capital District Sogetsu Study Group from 2018 to 2022 and is currently Membership Coordinator and a member of the planning board.