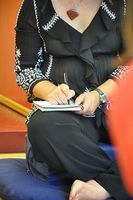 Sit, Walk, Write: Contemplative Writing Retreat
with Ellen Rook
"Writing with other people keeps you honest." — Natalie Goldberg
Inspired by Natalie Goldman's recent book The True Secret of Writing: Connecting Life with Language, join us for a full day meditation, movement and writing retreat (half day participation welcome). Everyone is welcome, new and experienced meditators, aspiring writers, established writers, and writers of any genre. Meditation instruction will be available at 9 am and 1 pm for anyone new to meditation.
We'll spend the day practicing sitting meditation, exploring our genuine, awake hearts, mindful movement through walking meditation (and perhaps a little gentle stretching or yoga) and writing sessions. Optional writing prompts will be offered. There will be an opportunity to share our words as well.
Our Generosity Policy
In order to make our programs accessible to everyone, we have a "pay what you can afford" policy. If the listed price is an obstacle for you, please decide what works for you and offer whatever you can. No one will be turned away!
_________________________________________________________________
Ellen White Rook is a poet and teacher of contemplative arts living in upstate New York and southern Maine. She encountered the teachings of Chögyam Trungpa while recovering from mononucleosis in 1976 and joined the Shambhala community in 1980 where she has held a variety of positions including Director of the Albany Shambhala Center and Shastri. In addition to teaching dharma art, she teaches meditation and Buddhism and leads day-long Sit, Walk, Write retreats that merge meditation, movement, and writing. She is an Ikebana (Japanese flower arranging) instructor in the Sogetsu tradition. She is married and the mother of three adult daughters.