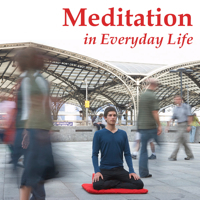 Establish and Rejuvenate Your Meditation Practice - MIEL
with Damian Ubriaco & Elissa Kane
Meditation In Everyday Life
By making a deep connection to the present moment and understanding our mind through the practice of meditation, we learn to make friends with ourselves…
While meditation has many proven benefits, establishing a consistent personal practice can be challenging. Our renowned four-week training course Meditation in Everyday Life is designed to help new meditators learn the basics of Mindfulness Meditation practice and bring the benefits to their daily lives.
Through establishing a consistent meditation practice, we learn to relax and simply be with whatever is going on in our lives. Over time, this meditation helps us to cultivate courage, humor, and stability in the face of the daily complexities we all experience – our jobs, relationships, and all aspects of daily life.
This is the first class in the Way of Shambhala curriculum. It offers a glimpse of the Shambhala vision of an enlightened society created through mindfulness-awareness meditation. The stability and wisdom cultivated through meditation practice can expand to benefit the world around us.
Class Topics

Class 1: Intro to Meditation: Peaceful Abiding and Basic Goodness
Class 2: Using Mindfulness and Awareness to Gather the Mind and Work with Emotions
Class 3: Overcoming the Obstacles to Meditation
Class 4: Willing to Open: The Genuine Heart of Sadness
Class 5: Meditation as a Transformational Tool for Society: Everyday Life and Enlightened Society
Our Generosity Policy
In order to make our programs accessible to everyone, we have a "pay what you can afford" policy. If the program price is an obstacle for you, please decide what works for you and offer whatever you can.
For those who can offer more, we invite you to pay more to help cover the costs for others who are not able to pay the full price.