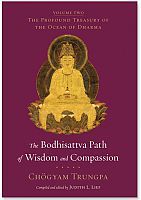 Profound Treasury: The Bodhisattva Path of Wisdom and Compassion
March meeting has been cancelled.
The three volumes of Profound Treasury of the Ocean of Dharma present a complete map of the Tibetan Buddhist path from beginning to end, as taught by the Vidyadhara Chögyam Trungpa Rinpoche. It is based on the teachings presented at the annual three-month meditation and study retreats known as the Vajradhatu Seminaries, which he led from 1973 to 1986.
The second volume, The Bodhisattva Path of Wisdom and Compassion, presents the bodhisattva teachings of the mahayana. At this point, having trained and seen the benefits of looking within, the student begins to shift their focus outward to the broader world.
This study group, open to all, meets the second Monday of each month. You'd welcome to attend the whole series or drop in (suggested drop in donation, $5 or $10). Paperback copies of the text are available for sale at the Center office. It is also available online and many people have purchased it as an eBook. We'll be reading Part Three: Preparing the Ground and Part Four: Making a Commitment this year.
Reading Schedule:
September 9: Cultivating Wholesomeness and Expanding your Practice, pp. 51-59
October 14: Cutting Ego Fixation, pp. 60-68
November 11: Awakening Your Enlightened Genes, pp. 69-77
December 9: The Spiritual Friend, pp. 78-88
January 13: Indestructible Wakefulness, pp. 89-96
February 10: Planting the Moon of Bodhi in Your Heart, pp. 97 - 98; Cultivating a Mahayana Mentality, pp. 99-103
April1 13: The Seven Mahayana Exercises, pp. 104-106; Taking the Bodhisattva Vow, pp. 107-115 (via Zoom)
April 27: Becoming a Bodhisattva, pp. 116-120 (via Zoom)
May 11: Joining Profundity and Vastness, pp. 121 - 128 (via Zoom)
You're welcome to pay for the course in advance or on a monthly basis. As always, our generosity policy is in effect: if you can't afford the suggested price, you're welcome to come and offer what works for you.
To receive the Zoom link, please register below.