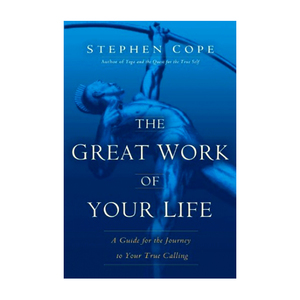 Finding Your True Calling Book Group
Join us for a year long journey in looking for your true calling. We will be using Stephen Cope's illuminating book The Great Work of Your Life, paired with the Bhagavad Gita to explore who we are meant to be and what we are meant to do. The Great Work of Your Life is divided into 12 chapters that combines the wisdom of the Bhagavad Gita with explorations of the lives of 12 dynamic people who found their dharma and followed it to the end. Each month we will discuss the chapter from The Great Work of Your Life, the corresponding chapter from the Bhagavad Gita, and the work of the dharma master of that chapter. The dharma masters will include the likes of Jane Goodall, Henry David Thoreau, Walt Whitman, Susan B. Anthony, Beethoven, Harriet Tubman, Gandhi and more! We will steep ourselves into the cross-section of spirit, arts, literature, science, social justice and joy!
Books will be available for purchase at our first class or see links to order below. Or go to your local independent bookstore and order a copy.
Order The Great Work of Your Life
Order The Bhagavad Gita by Eknath Easwaran
Our Generosity Policy
In order to make our programs accessible to everyone, we have a "pay what you can afford" policy. If the program price is an obstacle for you, please decide what works for you and offer whatever you can.
For those who can offer more, we invite you to pay more to help cover the costs for others who are not able to pay the full price.